WOLFGANG
Wolfgang is on loan by his Owner, Debbie Mauldin. Thank you, Debbie!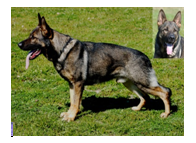 Wolfgang's Sire Balco
SG Balco vom Konigswolf
SchH3, FH1, KKL1, Hips OFA Good
SireV Melano vom Cap Arkona
LGA, SchH3
"a" normal
SZ: 2040652V Nick vom Heiligenbosch
3X BSP, SchH3, FH1
"a" normal
SZ: 1911480SG Half vom Ruhbachtal
SchH3, (G-BSP), FH
normalSZ: 1773244G Ina vom Haus Gard
SchH1
"a" normal
SZ: 1830399Fenia vom Busecker Schloss
SchH3normal
SZ: 1795477V Hermes vom Busecker Schloss
SchH3
normal
SZ: 1587241Anja vom Hasenkeller
SchH3
normal
SZ: 1626096 DamAylin von den Musketieren
SchH3, FH
"a" normal
SZ: 2026000SG Lao vom Rassestandard
SchH3, (SG-BSP), FH2normal
SZ: 19046/1904619SG Berry vom Neuen Lande
SchH3, FH, IP3
fast normal
SZ: 1745224Innie vom Rassestandard
normal
SZ: 1795135G Ayscha vom Bracheler See
SchH1normal
SZ: 1925029V Yoschy von der Dollenwiese
SchH3, BSP
normal
SZ: 1823741Gesha von Machiavelli
SchH3
fast normal
SZ: 1778204
Link to Wolfgang's Dam, Magda Vom Wallerhorst
http://www.pedigreedatabase.com/german_shepherd_dog/dog.html?id=542510-magda-vom-wallerho
Sirius's Bentley
Bentley is a Kira/Wolfgang son. Just look at Kira's and Wolfgangs pedigree.
Bentley is awesome! He has a great personality. He is calm and sweet inside the house but very active and protective outside.